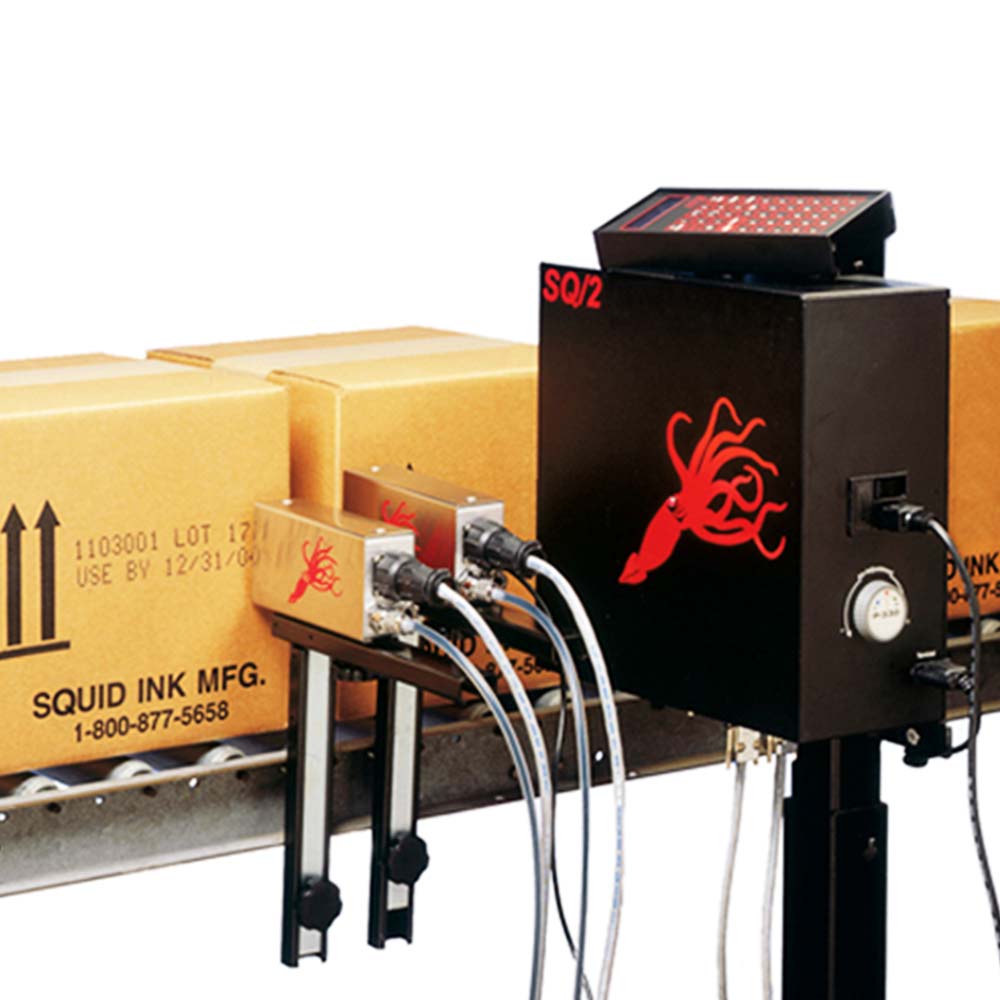 Squid Ink DOD Large Character Printers SQ/2
The SQ/2 large character ink jet system prints high quality dot-matrix characters on a variety of products at a cost-effective price. The SQ/2 offers the lowest price per printed character in the industry today. Users can choose between two models: a water-based model for printing on porous surfaces like corrugated cartons, or as a solvent-based system for printing on non-porous product like plastics, stretch wraps, metals and more.
User Flexibility
SQ/2 users also have the option of choosing from several printhead configurations. Three different print sizes are available: 3/4", 1/2", or 3/8" character height. All printheads are capable of printing both a 7 x 5 and 5 x 5 character matrix, offering print sizes ranging from 1/4"″to 3/4" in height. Users also have the flexibility to run one or two printheads at any time. All of these components are field-installable for future upgrade to meet your application's changing requirements.
No More Service Calls
The SQ/2 was engineered inside and out for industrial strength operation. Heavy-duty gauge coated steel cabinetry ensures continuous operation in harsh, real world environments. If the printer does fail, a fix can be completed in less than five minutes. Quick and easy-to-install replacement printheads, PC cards and air pump modules minimize downtime and eliminate costly service calls. Best of all, the water-based SQ/2 utilizes Squid Ink's patented SQ-60™ no-clog ink, allowing users to leave the ink in their printheads for an extended period of time without flushing or cleaning, making it the most cost-effective, low maintenance ink jet printing system available today.